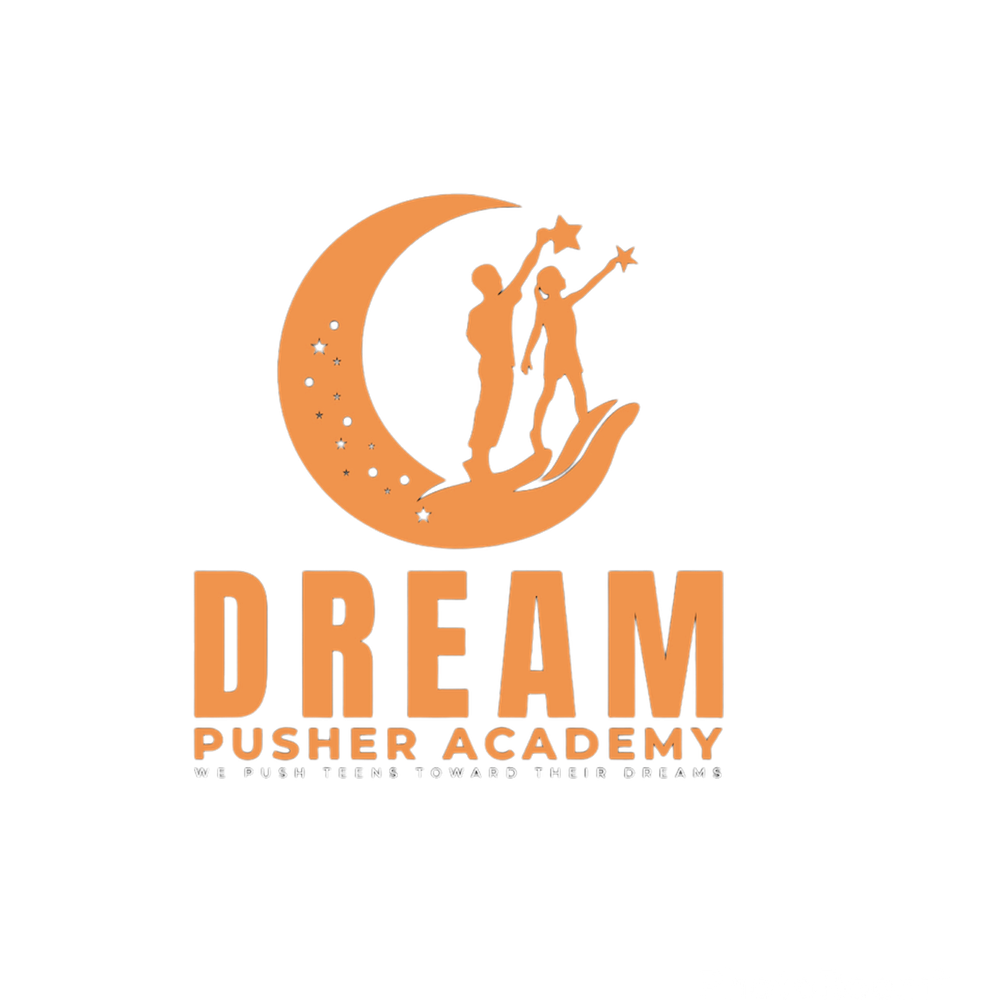 DREAM PUSHER ACADEMY
"WE PUSH TEENS TOWARD THEIR DREAMS" ™
VISION:
We are cultivating unique, safe and non-intimidating environments that ENCOURAGE, ENRICH and EMPOWER teens (13-18) to develop the essential competencies/life-skills to survive and thrive in the future.
MISSION:
We provide  our teens with the life-skills and  tools needed and necessary to be successful personally, academically and professionally. We help to boost and build teen confidence to pursue academic opportunities and scholarships, help teens to gain clarity, techniques and strategies to help them reach their goals, dreams and help teens possess the disciplines to expand their mental, emotional and intellectual capacity to be successful in the area of  Leadership, Entrepreneurship, Authorship/Creative Writing and Public Speaking. We accomplish our mission  by providing empowerment workshops, seminars, summits, coaching sessions and exposure trips.
(*Non-Profit Organization)
FREE OPPORTUNITY
FOR TEENS AGES 13-18 ONLY!!!
*ALL TEEN GROUPS CAN PARTICIPATE 
DREAM PUSHER ACADEMY (DPA) is looking for at least 25 ambitious, motivated and determined teens between the ages of 13-18 who have BIG HOPES and BIG DREAMS for academic excellence and success. DPA champions literacy and desires to provide coaching, mentorship and support to serious minded teens to intentionally expose teens to opportunities that will position them for academic success.  We intentionally seek out opportunities and resources that aid in their goals and ambitions.
Therefore, we have sought out this amazing opportunity for teens who desire to apply to get accepted into the 2023 DISNEY DREAMERS ACADEMY TEEN MENTORSHIP PROGRAM. This program has been around for 15 years and has inspired more than 1,300 students across the country by fueling their dreams and showing them a world of possibilities as they prepare for their futures. Students participate in hands-on, immersive career seminars in a wide range of disciplines found at Walt Disney World. Participants learn how to improve their communication, leadership and networking along with other valuable personal and professional development skills. Students also participate in a series of sessions and workshops designed to help them imagine bright futures, make exciting discoveries and learn how to put their goals into action. Disney Dreamers engage in a wide variety of experiences at Walt Disney World, while working side-by-side and hearing inspirational stories from celebrities, community and industry leaders, Disney cast members and other special guests from the big screen and television, noted sports figures, popular musicians, as well as personalities and cast members from across the Disney corporation family. 
VISIT www.disneydreamersacademy.com for more details about this amazing opportunity! 
OUR GOAL:   
To help build students self-esteem and confidence in pursuing their dreams and conquering their fears and insecurities when it comes to filling out applications and submitting essays for scholarship opportunities. 
To provide students the support and guidance in the DDA application process. To ensure their application is submitted in a timely manner and meet all requirements.  
To provide students access to Certified Teachers/College Interns to assist in editing, proofreading and guiding them in properly answering the Rapid Fire Questions (within the application) and assist in providing tips and techniques on how to creatively structure a well thought out essay, which there are three (3) Mini Essays required for submission.  
OVERALL OBJECTIVE:   
To schedule at least (4) 1-HOUR POWER Sessions  to INSPIRE, EMPOWER, REVIEW, PROOFREAD and EDIT DDA Applications, Rapid Fire Questions and Mini Essays.  ***PREP- LAB SCHEDULE (DATE & TIME) WILL BE GIVEN IN PDF DOWNLOAD AT TIME OF REGISTRATION
END GOAL:  
By the end of our Writing-Lab Sessions we want teens to BE MORE CONFIDENT in their ability to write essays and to apply for any/all scholarship opportunities that may come their way, without fear and intimidation in the writing process. WE ARE PREPARING OUR TEENS FOR ACADEMIC SUCCESS IN READING AND WRITING.  
****SPACE IS LIMITED, TEEN MUST BE REGISTERED TO PARTICIPATE.  
CLICK TO DOWNLOAD PDF FOR SPECIAL UPDATES FOR OUR WRITERS WORKSHOP
CLICK TO VIEW DREAM PUSHER ACADEMY PHOTO GALLERY 
LEARN ABOUT: PROGRAM FOUNDER/CEO - Jeronda Marks